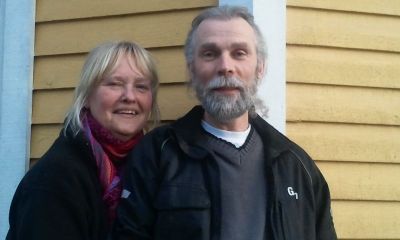 Göran Karlsson and Tineke van der Hoek Karlsson
Göran and Tineke are founders of Heart to heart ministries. Göran had a first encounter with Jesus in the 70s, after a life with drugs and depressions. His encounter with God was very tangible and his life changed instantly. In the middle of a meeting in the swedish town of Jönköping with the Jesuspeople from the US, a big white cloud ascended upon him.
"Everything just disappeared, I heard nothing of the sermon, I did not see the people around me, I just felt a love so great, a total acceptance. I had never experienced anything like it before, but I immediately knew that it was Jesus. It felt like purifying water flowing through my entire body and soul and I felt completely set free.."
No one had told him, no one had taught him, but in an instant Göran met Jesus, and his life has not been the same since. The strong encounter with God has impacted him throughout the years and has helped him through joy and through pain. For Göran, repentance through Jesus and the holiness of God is the core, to live a life that is pleasing to God is his desire. Göran loves to read about the old prophets. He has a strong prophetic anointing over his life. Many times have people received a prophetic word through Göran, which has launched them out in freedom and joy.
Göran was for some time a leader in Älmeboda Missionsförsamling. To be able to support his family he works at a big christian forestry and farm company outside the small swedish town of Älmeboda.
Göran got married to Tineke in 1981 and they have three children together, Sebastian, Linn, and Lisa. Tineke is born in Amsterdam, the Netherlands, and she came to Sweden when she was 20 years old. Tineke met Jesus in the early 1980s, something she did not think was possible. She had always disliked "Christians who run around to hit people in the head with the bible..".
But God knew about her skeptical attitude and He met her in solitude in such a way that she since then never has doubted Him anymore. "No one has preached to me, it would not have worked on me, but God knew me and met me in my own way....because so loving and caring is He...."
Tineke´s heart is passionate for people in need. "The love I feel for people around me comes from Jesus, I would never be able to love them so without Him...". Tineke works as a development manager within the healtcare sector and she has been a member of the baptist church Söderportkyrkan in Tingsryd.